Lesezeit
7
min
beyerdynamic meets
Andi Pomato
Singer/Songwriter Andi Pomato and photographer/filmmaker Paula Lembo travel the world to share his music. Follow #foxwashere and #foxaroundtheworld to get the latest updates about their tour, the musicians they will meet and all the adventures they will experience. Always on their side: our USB Studio Microphone FOX.
Interview with: Andi Pomato and Paula Maria Lembo
A few days prior to the start of their tour, Andi and Paula kindly answered us
some questions in writing.
Get to know Andi and learn about his background, his music and his sources of inspiration. He tells us about his current projet "In 80 Posts around the World" that starts today. The tour will take him to several countries, where he will meet fellow musicians. Always on his side: Paula Maria Lembo (Photographer) and, of course, our USB Microphone FOX.
beyerdynamic: Could you briefly introduce yourself to the beyerdynamic community?
Andi: I am Andi, an argentinian/italian singer song-writer, based half year in London, and half year in Buenos Aires. I've been travelling with my songs for the last 5 years. In 2015, after a few months of touring around Europe, I started writing songs in English and, a year later, I moved to London. That idea had been on my mind for a long time. Now I live from summer to summer, between Europe and America, singing for new people every season, busking on the streets, doing gigs and co-writing with musicians friends.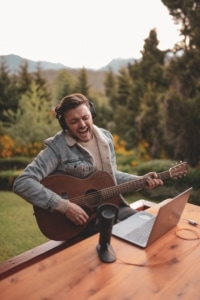 Andi: About my music, I can say my style fits the pop folk. I write about love, travelling, relationships, distance, and how it is to be a romantic person in this crazy world. At the time, I have 2 EP's and one single, all released independently. In 2017, after spending the whole summer singing on the streets of London, saving every coin, I recorded Mostly Sunny, one of my EP's, at Abbey Road Studios UK, and that's when I get in contact with a beyerdynamic headphone. I was so happy with them, that I posted a photo when we finished the session that night… and then: a beautiful relation with the brand for two years now.

My plan is to keep writing songs, doing gigs, recording albums, travelling, meeting new friends, discovering new countries, and… learning more about cooking.
beyerdynamic: We can proudly say that you are a friend of beyerdynamic. We are looking forward to our upcoming project, your World Tour. How did you come up with the idea to do a trip around the world with FOX?
Andi: Well, last year, when I first ever tried the FOX, I realized I could use it anywhere, I just have to remind to pack it in my bagpack, and take it wherever I go. I love doing session with friends, and then I thought: "What if I go around the world with this mic? Trying to connect with people from different cultures…". A week later I was about to start a 10 days holidays with my girlfriend and family at the south of Argentina, when I decided to pack my laptop and start writing the project…. so I didn't have holidays. That's why my new album, that will be out next June 7th is called Holidays. All my energy is always going to my songs, to my projects. In the cover you will see a perfect holidays situation that never happened but I'm sure that soon it will.
beyerdynamic: Why do you like to use the FOX to record your music?
Andi: I really like using the FOX to record because it's so easy to set it up with my laptop and the Logic Pro. In a few seconds you can be recording audio in high quality. It's simple and light to transport. And there is something about the audio, I feel is the perfect mix between the technology of 2019 and the vintage audio… I can hear something from an old mic in it.
I really like using the FOX to record because it's so easy to set it up
with my laptop and the Logic Pro. In a few seconds
you can be recording audio in high quality.  

beyerdynamic: What are your sources of inspiration when creating music? How does the creation process of a new song look like?
Andi: The process always changes. I don't have a routine, I don't have a method. I like when the idea comes to my mind, and I can't stop until the song is finished. I'm always reading books, preferably novels… I have some writers to which I always return, as Modiano, Murakami, Cortazar, Silvina Ocampo, Hemingway… or Woody Allen films.. there I find scenes of the real life that I adore, that for me looks like the real world.
beyerdynamic: What do you expect from your trip regarding the promotion of your music?
Andi: Obviously, one of the most attractive things about the tour, besides recording and meeting musicians, is to share my songs in countries I have always dreamed of. I have already booked some gigs in many of the cities we are visiting, so I will be promoting my new album "Holidays" from March 25th, when I play at Sofar Sounds in Italy, and release the first single "Red Color".
beyerdynamic: You will be sharing your trip and stories on Instagram – how can your followers be part of your tour?
Andi: Yes, we will be sharing not only videos of different sessions with musicians around the world on Instagram and Youtube. We will also be posting stories of the trip, showing our time at airports, hotels, planes, trains and funny scenes of the tour. The idea is to connect with people and invite our fans to travel with us… using polls and questions, we can interact with our followers and make them part of decisions and ideas. They also can follow the hashtag #FoxWasHere that we will use in every post.
beyerdynamic: You are not travelling the world alone. Paula will be on your side during this adventure. Paula, would you shortly introduce yourself and tell us, what your role will be during the next few months?
Paula: Of course. I am Paula María Lembo, a half argentinian-half italian girl. I'm 26 years old and I'm a photographer and film-maker.
I've been into photography since I was very young, and DSLR cameras did not even exist. But I had always felt curious about how magical it is being able to capture a moment on a photograph forever. I started taking pictures as a hobby, then I went to school and got a degree on it. Since then, it has become my full-time job, and passion.
Paula: In the next few months my role will be to photograph, record and capture all of the  #FoxAroundTheWorld tour with Andi and connecting beyerdynamic with every culture, people and songs that local artists will share with us. Can't wait to discover what all these places and people will show us!
beyerdynamic: You both have chosen a career as creators of music, photo and film. Has this always been your goal and dream and what are the challenges you are facing now and then?
Andi: When I finished the school I started two careers: music and psychology. I made both, I got both degrees, but I never worked as a professional psychologist. Music has always been my job. I've always wanted to be a song-writer. If you want to know if I want to play at a big venue or a stadium one day, the answer is yes. But I want to enjoy every moment, every step, every stage. If one day there are hundreds of thousands waiting to buy my tickets, I will be ready.
Paula: To be honest, I never imagined I would be able to live from a profession I love. When I finished school at 18 I wasn't really sure about what I wanted to do in the future. My family has a small Travel Agency in Argentina so I thought it would be a good idea to work there and keep the family business, so, I signed up for Tourism at university. But, at the same time, I also started studying photography, just as a hobby. I started practicing, taking pictures for family and friends and since then, and after a lot of studying, learning and long hours of work, it suddenly became my only job.
About challenges, I could say that everyday new opportunities can come up, so I try to improve my skills every day to do my best, living the moment and worrying just about the present.
beyerdynamic: What do you pack for your trip?
Andi: My guitar, the FOX, my MacBook, my kindle, some merchandising (cd's and beautiful pins I made for this tour), my two favourite jean jackets, a hat, two caps, and some coloured summer shirts.
Paula: Everytime I have to travel, I take a lot of time to decide what I'm going to pack in my bag or suitcase (in case it's a longer trip). First of all, phone, passport, my camera and lenses. Lately, I've been using a lot the 16-35 and the 50mm lenses. Both perfect for travelling, recording and portrait photos. Then, I can't leave with many loaded batteries, sd card memories, my laptop and the sd adapter to directly download photos and videos to my phone. That way, I can edit quickly high quality material to upload to social media.
Also, I always try to take a small amount of clothes on my suitcase so I can travel lighter. That improves SO much the journey, since you don't have to worry for walking around the airport or cities carrying a heavy bag. It's a pretty smart decision when you're visiting many destinations for a short time on each one.
beyerdynamic: How would you describe beyerdynamic in three words?
Andi: Solid, professional, black
Follow Andi and Paula on their Social Media Channels to experience their adventures with them:
Get to know more about this special project and find out where Andi and Paula will travel:
War dieser Beitrag hilfreich?